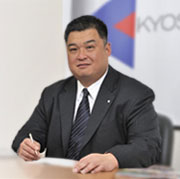 KYOSHA originally started its business as a screen printing manufacturer and sales company for the Japanese traditional textile craft of Yuzen Dyeing in Kyoto in 1959. By applying the knowledge and techniques from the original business, we entered the printed wiring board business in 1967 and have continued to grow and expand to this day.
Our excellent performance in meeting our customers' needs and our ability in foreseeing the world market trends of the electronic industry, as well as our customers' continuous support have brought us today's success.
In the ever-evolving electronics industry, we have always had in mind how we can accurately meet the diversifying needs, quality expectations, and the delivery requirements of our customers. The reason why we have been aggressively putting effort into meeting the needs of the international community by placing bases in the world's main production regions is due to our aim at handling matters quickly utilizing a greater network.
We would like to develop our company's business and contribute to society by continuing to value our customers and the mutual communication among our employees.
President: Kazuto Kojima
Name
KYOSHA CO., LTD.
Main Office
300 Morimurahigashi Kumiyama-cho Kuse-gun Kyoto, Japan 613-0024
Tel
+81-75-631-3191
Fax
+81-75-631-7761
Founded
May 1951
Established
February 1959
Business
Manufacturing / sales of Printed Wiring Boards (PWB)
Manufacturing / sales of carrier jigs for mounting electrical components
Manufacturing / sales of metal masks for solder paste
Capital
¥1,102 million (Number of issued stocks 14,624,000 stocks)
Employees
Consolidated: 1,411 employees (as of March 31, 2018)
President
Kazuto Kojima
Director
Shigeru Momoi
Jumpei Kojima
External Directors
Toshio Hibi
Sadatoshi Iijima
Standing Corporate Auditor
Katsunori Kitamoto
External Auditors
Hitoshi Senda
Akira Ishida
Correspondent Banks
MUFG Bank, Ltd.
The Bank of Kyoto, Ltd.
Mizuho Bank, Ltd.
The Shiga Bank, Ltd.
Sumitomo Mitsui Banking Corporation
Resona Bank, Limited.
Sumitomo Mitsui Trust Bank, Limited.
Main Use
Automotive parts,
Audio/visual equipment,
Electronic home appliances,
Office equipment,
Electronic components,
Games, etc.